Edbert (Berti) Paul Alscher

According to my scouts I'm from a time where man could stand upright, but neither read nor write. So there is no proof of my birth by certificate. Still my apperance in this time is marked by paintings in caves like in Altamira (Spain) ;-)
From the very beginning the kids from the neighboring caves feared me (as they still do today). Also this was painted on cave walls to be remembered.
My hand writing origins from the first days. Thats why it is nearly impossible to read for most people. Only friends may guess what I want to say.
I had my own dinosaur (instead of a dog) whom I gave the name "Puff" . ;-)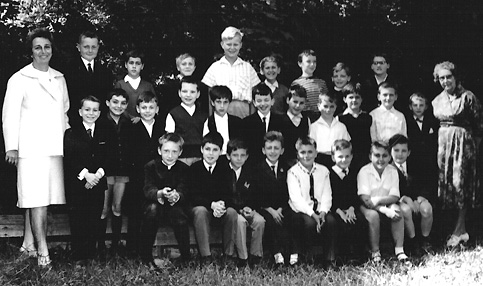 At 30.3.1956, a Good Friday, they made a replacement-birth-certificate, bearing the name Edbert Paul Alscher. As parents were marked down Edbert Alscher and Liselotte Alscher (before Weihs) .
At that time I lived with my Teddy and my parents at Fleischgasse in Mödling. Its really long ago though. I can still remember the iceman bringing the block-ice for our fridge!
1961 my sister Elisabeth was born.
For primary school I was sent to Babenbergerschule, where I slept nearly all time. At least I was not recognized. My favorite teacher was called Helga Vosol.
1963 I joined the "Sängerknaben vom Wienerwald" (Vienna Wood's Boys Choir). I liked singing very much as I still do. After a few years, as I was a loner and preferred reading instead of playing with the other boys, I didn't want to go on tournee to Japan. So I decided to leave again and spend more time at home in Moedling.
In 1986, soon after my brother Georg was born, a boy from the neighborhood came to invite me to the scouts. I didn't really want, but he was older, taller and stronger than me, so 2nd time he asked I agreed to go with him to a troop-meeting. I wasn't very enthusiastic about scouting, but after a few meetings I met the assistent patrol leader of my patrol (the eagles) who was ill the first meetings. He was able to get me into scouting, and so I met my fate as scout in Maria Enzersdorf-Liechtenstein.
After 4 years in the secondary school I changed into the higher technical school in Moedling and choose the branch precision engineering. The five years went by and despite of intense scouting besides school I made my final exam for leaving school.
My job history :
Nach der Schule arbeitete ich kurz bei Eumig, um dann nach Kaisersteinbruch zum Bundesheer einzurücken. Nach 3 öden und verlorenen Monaten wurde ich mit Hilfe unseres Pfadi-Obmanns Dr. Stanek und dem stv. Leiter der HBA Hauptmann Painz in die Heeresbekleidungs-anstalt nach Brunn überstellt. Hier erhielt ich eine Heimschläfergenehmigung und hatte somit jede Menge Zeit für die Pfadfinderei. Nach weiteren 5 Monaten als Sekretär, Testvorrichtungsbastler und Wachdienst rüstete ich ab.
Mein erster richtiger Job war dann bei der Eumig in Wr. Neudorf. Dort arbeitete ich 5 schöne Jahre in der Entwicklungsabteilung an Kameras und Projektoren. Die letzten 4 Monate vor dem Konkurs arbeitete ich leihweise bei TIMEX in Dundee/Schottland an einer 3D-Fotokamera (Nimslo).
In den nächsten 3 arbeitslosen Monaten brachte ich einige Projekte im Pfadiheim auf Vordermann. Dann meldete ich mich für einen schlecht bezahlten Job bei meinem vorherigen (Eumig) Chef Erwin Gomsi zur Gas- und Schwerölmotorenkonstruktion bei der SGP in Simmering. Gott sei Dank wollten sie mich nach Ablauf der 6 vereinbarten Monate nicht mehr haben, und ich war frei für neue Aufgaben.
Der Druckerhersteller Mannesmann Tally nahm mich sofort, und mit wesentlich besserer Bezahlung und einem interessanten Job rund um Nadeldruckerzubehör und Konstruktion sowie Montagebetreuung hielt ich 5 Jahre durch, bis zum unrühmlichen "Ende" der Firma. (Die meisten Abteilungen wurden geschlossen bzw. von der Mutterfirma in Ulm und Kienzle in Wien übernommen.)
Harald Wessner, mit dem ich schon gemeinsam in Schottland gearbeitet hatte, und dem ich dann einen Job bei Tally vermittelte, informierte einen Ex-Eumig-Kollegen und Freund, der inzwischen zum Technischen Leiter avanciert war, dass ich einen Job suchen würde. So kam ich zu meinem tollen Job bei ARRI-Austria, einer Tochter von Arnold & Richter in München, den ich immer noch habe.